Update: 17:20
A winter-like mix of snow and freezing rain Monday night through Tuesday, with the heaviest snow on Tuesday. The event will be extended as the snow showers continue through early Thursday morning.
Another influential winter storm hits
A nasty winter storm will affect the southern half of Minnesota and parts of northeastern Minnesota late Monday and early Thursday. A winter-like mix of heavy snowfall and freezing rain and rain is likely Tuesday from the Twin Cities and points south and southeast.
Significant ice accumulation is likely in parts of south-central and southeastern Minnesota late Monday night through Tuesday. Storm warnings are in effect for parts of south-central and southeastern Minnesota.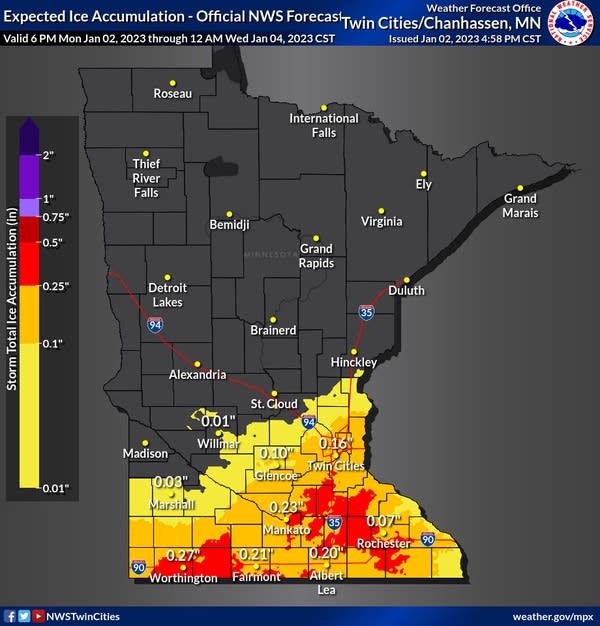 Here's a breakdown of precipitation type and intensity for different locations affected by winter storms.
Total snowfall is highest in southwestern Minnesota, with less precipitation in the east, and a mix of precipitation types that reduces total snowfall somewhat.
Cooler air moves behind the system, but Arctic air does not. High temperatures later in the week and into the weekend are mostly in the teens, with overnight lows in the single digits and even reading below freezing in northern Minnesota.
Before you continue reading, please take a moment to donate to MPR News. Your financial backing ensures that factual and authoritative news and context are accessible to all.